Equipment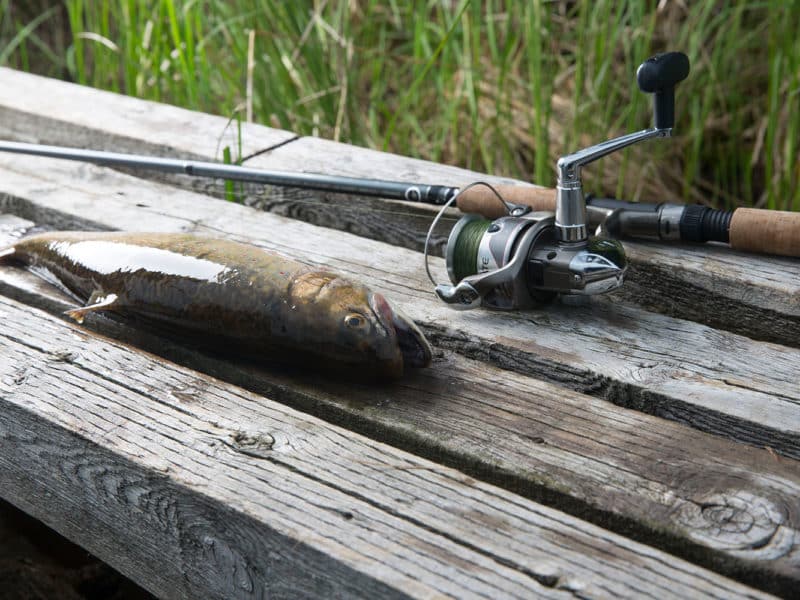 Choosing your fishing rod and reel
You borrowed your friend's fishing rod to go on your first fishing trip, and now you're hooked! You are already on your way to buy your own rod. However, you find yourself bewildered once you see the many options from which you get to choose.
Staff in specialized stores are usually very knowledgeable and can help you in your search for the perfect equipment.  It is better for you though to know a few basics in order to find a suitable fishing rod that will cover your needs without having to invest your entire paycheck.
Where to start?
You should choose your fishing rod according to action, resistance (line strength) and reel type.
For beginners, the best option is a fishing rod with medium action and resistance. This combination would allow you to really feel the fish biting, even if they are not that hungry.
How to choose your rod
A fishing rod is made out of fiberglass, graphite or both. Length and stiffness should be selected according to the angling technique and the type of lure that will be used. Heavier lures require a powerful rod, whereas lighter lures do not require as much power.
Here are a few tips to keep in mind:
You should choose a rod that is about 30 cm (12 in.) taller than you.
A higher number of guides (between 5 and 7) means that the tension is better distributed on your line.
A longer fishing rod allows for more flexibility when a fish bites into a bait without swallowing it.
A handle made out of cork is more lasting than one made out of foam.
Telescopic rods do exist, and they are very convenient for compact carrying.
Choosing your reel
There are 4 types of reels. For beginners, we usually recommend 2 of them:
Spincast: this reel is covered and works with the push of a button. It is beginner-friendly because it is easy to use and pretty accurate. It is child-friendly as well!
Spinning reel: this reel has a small metal ring that needs to be pulled before casting. Accuracy requires a bit of training, but its casting range is greater than the spincast.
What about the line?
The fishing line can be a monofilament (a single filament), a braided line (many filaments that are either braided or combined), or a lead core or silk line (used for fly fishing). A line's strength is measured according to weight and should be chosen depending on the targeted species. Here are a few more tips to properly choose and take care of your fishing line:
For beginners, it is usually recommended to use the monofilament. It holds back your catch without breaking when you retrieve and try to get back your hook that is stuck (again!) at the bottom of the lake.
The line should be thin and invisible to the fish. It should allow for the lures to easily move in the water, and also prevent loops from the spool (on the reel).
The fishing line is the link between your rod and the perfect catch. Purchase a good-quality line and regularly make sure that it is in good condition.
Regularly check your line's wear. By sliding it through your fingers, you can spot the parts that are weakened or worn out.
As a beginner, you will see that knots happen fast! To prevent wearing out your line and losing your next catch, you are better off throwing out the weakened line (not in nature, obviously).
Enjoy your shopping!
Learn more
Discover How to gear up for less than $100 and find plenty of fishing gear tips in the Complete File: Fishing for Dummies on the Sépaq blog.
Watch this video (in French only) from fishing enthusiast Alex Ranger on tips to gradually get more fishing equipment (video produced by the Fédération québécoise des chasseurs et pêcheurs).